Story By: Joey DiGiovanni // UTVUnderground.com
Photos By: Tony Lozano aka Tony Lozza // KiloMX
We first laid eyes on this amazing RZR at the UTVUnderground Show & Shine competition during the Camp RZR event over new years weekend. Like most of those in attendance we were floored when we began to inspect what once started as a 2012 Polaris XP4 and had become of the most unique RZR's we have ever seen. We began working immediately with Hector and his photographer Tony Lozano on how we could feature this machine for the readers of UTVUnderground.com. While the body kit drew us in we found that once you get past the completely over the top exterior and begin to dig into the interior you come to find that Hector Jimenez and his team at GlazzKraft Fiberglass Products and HJM Motorsports out of Rosarito, Baja California, Mexico had built one of the coolest UTV's EVER!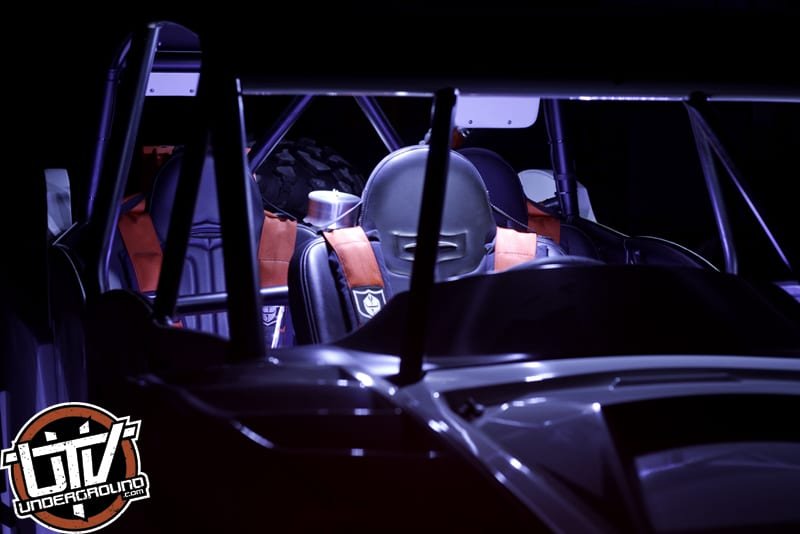 Now while there are few in the sport either working on or having completed a center drive UTV, this was the first I had ever seen in person. Many I have talked too or have seen perform this concept have done so with a 2 seat UTV so to see this based off a 4 seat platform was really cool. What has been built is a center drive UTV with 2 rear seats that have amazing leg room and give the machine some rear weight balast which should allow this machine to fly nose high when fully loaded. The idea for the 3 seat center drive came from the owner of the machine who has been a long time fan of the Maclaren F1 sports car. The resulting design has given the driver an amazing feeling of being behind the wheel of what feels like a true race car and the passengers unmatched comfort for long rides as well as amazing visibility.
Being residents of the off-road promise land better known as Baja, one would have to assume that Hector knows a few things about off-roading. Looking at his wrap around dash layout with a Lowrance Baja Elite 5M GPS dead center, a PCI Icom Intercom / Race Radio set-up and 2 Parker Pumper air systems it confirms that this machine was built to go the distance.  The dash itself is one of the custom products made by GlazzKraft that they call their "Center Bulge Dash". It also incorporates the factory tach which is positioned just to the left of the GPS as well as switches to all of the electronically controlled devices such as the parker pumpers, 4wd drive system, Rigid Industries LED lights and Vision X interior dome lights. Pro Armor seats and Harnesses keep the driver and occupants safe while putting the factory provided 14″ of suspension travel to the test!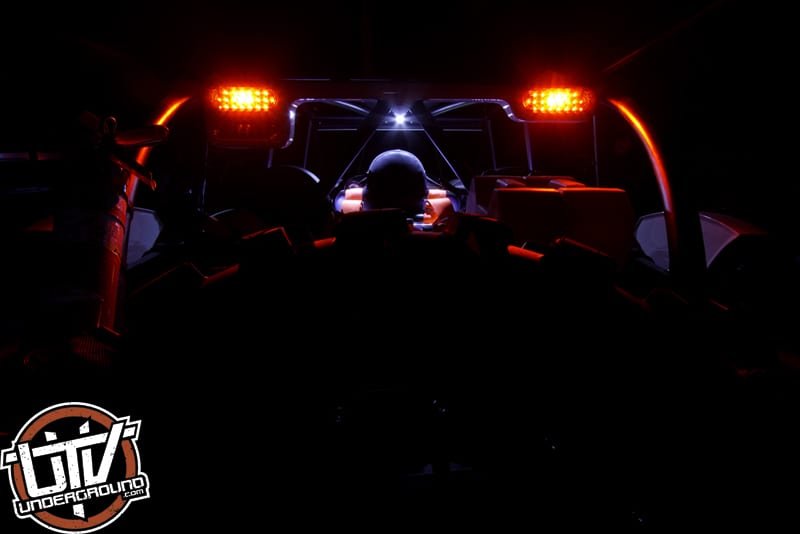 GlazzKraft Fiberglass Products and Hector's other company HJM Motorsports collaborated on this build with a goal to create what would be the most aggressive looking Polaris RZR ever. The GK900 fiberglass body kit by GlazzKraft is available for purchase and can easily be fit onto any XP4. Cost on the kit is $1,499.00.  Combined with the HJM Motorsports CX500 roll-cage which is constructed of 1 3/4″ chromoloy you have a RZR that looks like no other machine in the dunes.  The body on this machine was painted white and was built to conform around the custom doors HJM Motorsports built.  However, GlazzKraft's kit does and will work with Pro Armor doors and you can request it to be made to work with your solid race panels should you choose to want to run it that way.  The kit can be gel coated or can be shipped primed and ready for paint.  Surely this body kit is what makes this machine stand out, and immediate reaction by many was HOW DO I BUY THIS KIT!?
In all we are proud to share this amazing build with our readers.  We are sure you all will dig it as much as we do. We look forward to more builds from GlazzKraft and HJM Motorsposrts!
Links:
http://www.facebook.com/GlazzkraftIndustries
http://www.facebook.com/kilomx
http://www.facebook.com/eltonylozano?fref=ts
About GlazzKraft & HJM Motorsports:
GlazzKraft / HJM are San Diego based companies with manufacturer plants in Mexico.  HJM has been building UTV's since 2008 and continues to perform full custom built off-road vehicles. The GlazzKraft product line has custom fiberglass kits for everything from trucks to UTV's but chooses to focus on the Polaris RZR lineup for now. Please contact us at http://facebook.com/glazzkraftindustries
About Tony Lozano:
Tony has been taking photos all his life but turned professional in 2007. Recently Lozano was published in the RedBulletin Magazine and hired by Red Bull as a freelance photo/videographer. He has also done work for the Boys and Girls Club of America Documentary Film. Tony is a long time off-road fanatic getting his start in quads and freestyle MX, Tony's love of photo and off-road caused him to start his company KiloMX. Tony aspires to continue to grow in the off-road insutry and is collecting footage to release his first full length DVD.  He is available for hire as a freelance photo/videographer by contacting him at tonykilomx@gmail.com. You can learn more about him at